Getting annoyed by the non-stop pop up of "Your Dropbox is full" or "Your Dropbox is almost full" notification message? Dropbox will continue to show the notification every times you boot your PC and at a certain time everyday to remind you how long it has been stop syncing your files due to maximum storage space reached in your Dropbox account.
"Your Dropbox is Full" What can I do?
The "Your Dropbox is Full and no longer syncing" message, as the sentence itself implies, indicates that your Dropbox account's space is full and therefore no new files or folders can be sync to your Dropbox account. The simplest way to solve this issue is of course by paying to upgrade your Dropbox account to get more free Dropbox spaces.
If you don't feel like paying to upgrade your account yet, here are a few things we would do.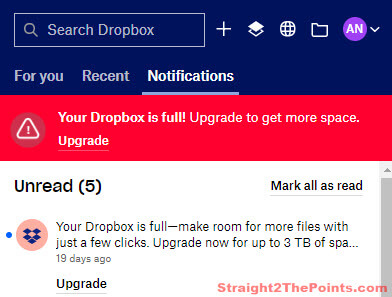 Deleting or moving old Dropbox files
You can backup and copy the old files and folders that have been accumulating in your Dropbox account to some other storage like your local external hard disk or USB drives, or other online backup service such as Google Drive. After backing them up elsewhere, you can then delete those files to free up spaces on your Dropbox account so that new files and folders can be continue syncing to your Dropbox account again.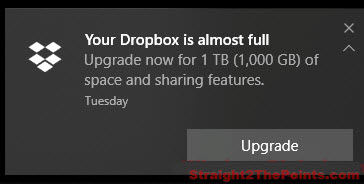 "Your Dropbox is Full" – How to delete files
Warning: Make sure you've backup your files elsewhere first before deleting them as there will be no undo after removing the files from Dropbox.
Go to Dropbox.com and login to your Dropbox account.
On the left sidebar, select All files.
From there you can select and delete files you no longer need or have already backup elsewhere.
Aside from "All files", if you have previously linked any shared files from your friends or your other Dropbox account, check the Shared section for any shared folders that you no longer want. Shared folders do count into your total Dropbox space. By deleting shared folders from your Dropbox account would also free up your account's space.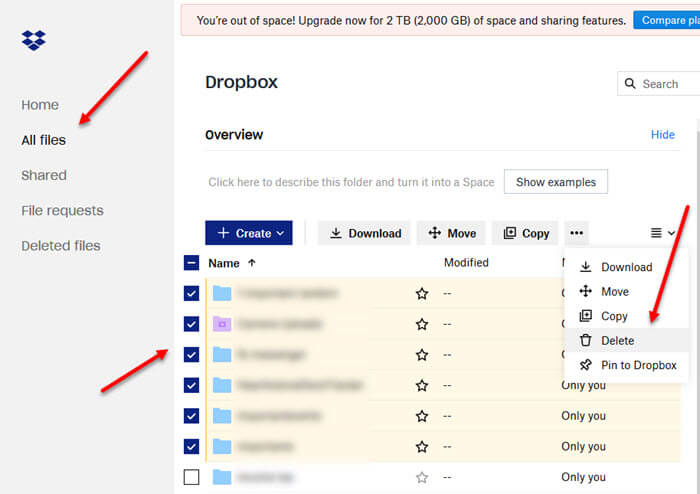 Disable "Your Dropbox is full" or "Your Dropbox is almost full" notification
If you no longer want to sync and backup your files to your Dropbox account, you can either uninstall Dropbox entirely from your PC or disable all notifications from Dropbox in Windows 10. To disable Dropbox from sending anymore notifications to you, follow the steps below.
Using the Windows 10 search bar, search for and open Settings.
Navigate to System > Notifications & actions.
Under the list of apps, look for Dropbox and click on it.
In the Dropbox notifications setting page, disable the Notifications toggle option.
After doing so, you will no longer receive "your Dropbox is full" or "your Dropbox is almost full" notifications.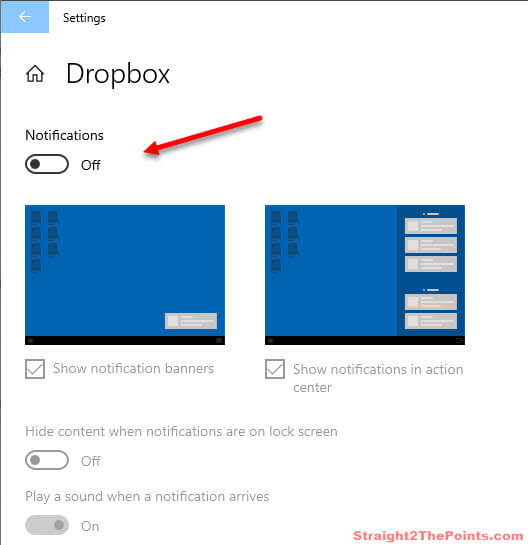 Note that doing so will also stop Dropbox from sending you any notification at all, including future @mentions, comments on files, new files synced, edits to files, etc.
Additionally, if you are worried about if disabling Dropbox notifications have anything to do with your Dropbox account, don't be. Your files on your Dropbox account will remain untouched. It's just that no new files can be sync anymore due to maximum allowable space was already reached.
Dropbox is full but I deleted files and nothing in it
If Dropbox keeps sending you "your dropbox is full" notification even after deleting the files in your account, well, it could be due to two reasons as far as we know.
The first possible culprit is that there might be still some previously linked shared folder (could be from your friends or your other account) still exists in your Dropbox account. When you link a shared folder to your Dropbox account, that folder is considered reside in your Dropbox too and thus taking up space and count towards your Dropbox free space quota.
Make sure to remove the shared folders too if you want to free up more space on your Dropbox account. Check step 4 under the "how to delete files in Dropbox" section above.
The second possible reason is that you have only deleted the files from the linked folder on your local hard drive. It is preferable to delete your files directly from your Dropbox account. Refer to the delete Dropbox files section above to learn how to do so.
If you want to save all the hassles, consider upgrade your Dropbox account to get 2 TB of space which will be more than enough for casual backup.